Borderlands Archive, 2018-Present
Project Type:
Installation, Research, Social Practice, Curation, Web Design
Installation View

Museum of Capitalism at the Stephen and Anna Kellen Gallery, Parsons School of Design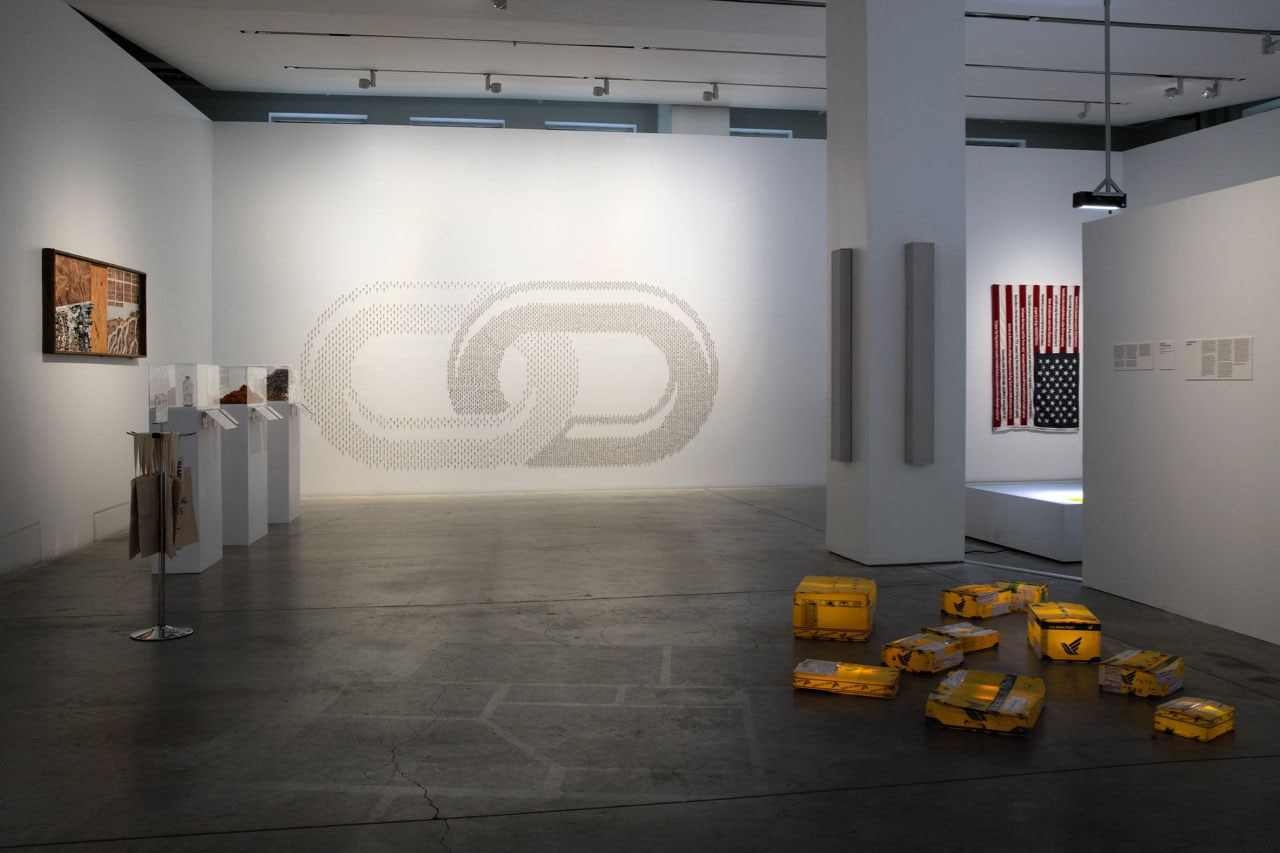 Special thanks to Tim and Andrea of Fictilis !

Groupshow at the Museum of Capitalism.
The Borderlands Archive, 2019
Loaned Artifacts, Cempasuchil, Used Plastic Bottle, Teosinte on Tumbleweed
Photos by Marc Tutti (c) 2019

The Borderlands Archive traces connection across territorial divide by collecting photographs, artifacts, artworks, histories, data and publications about the borderlands. It is a research project, an experiment in representation and an artistic gesture towards a collective knowledge about a contested space between two countries. This ongoing project traces a non-linear history across an ancestral landscape and explores ideas about place, territory, and border as urbanism in a bi-national context. The work employs the archive as a tool for capturing moving relationships in this complex built and natural environment, and invites others to contribute to the narrative. The objective of this research is to trump existing notions about fixed borders by reconceptualizing borders as a vast space in constant flux: the borderlands.

The archive is presented both physically as an exhibition and online as a collaborative web catalogue which I use as a platform to engage the public and collect artifacts which represent cross border connections. We are always and actively seeking artifact contributions.
LINK TO ARCHIVE
Installation View
Loaned artifacts from the Borderlands Archive as part of Museum of Capitalism, 2019
New York, New York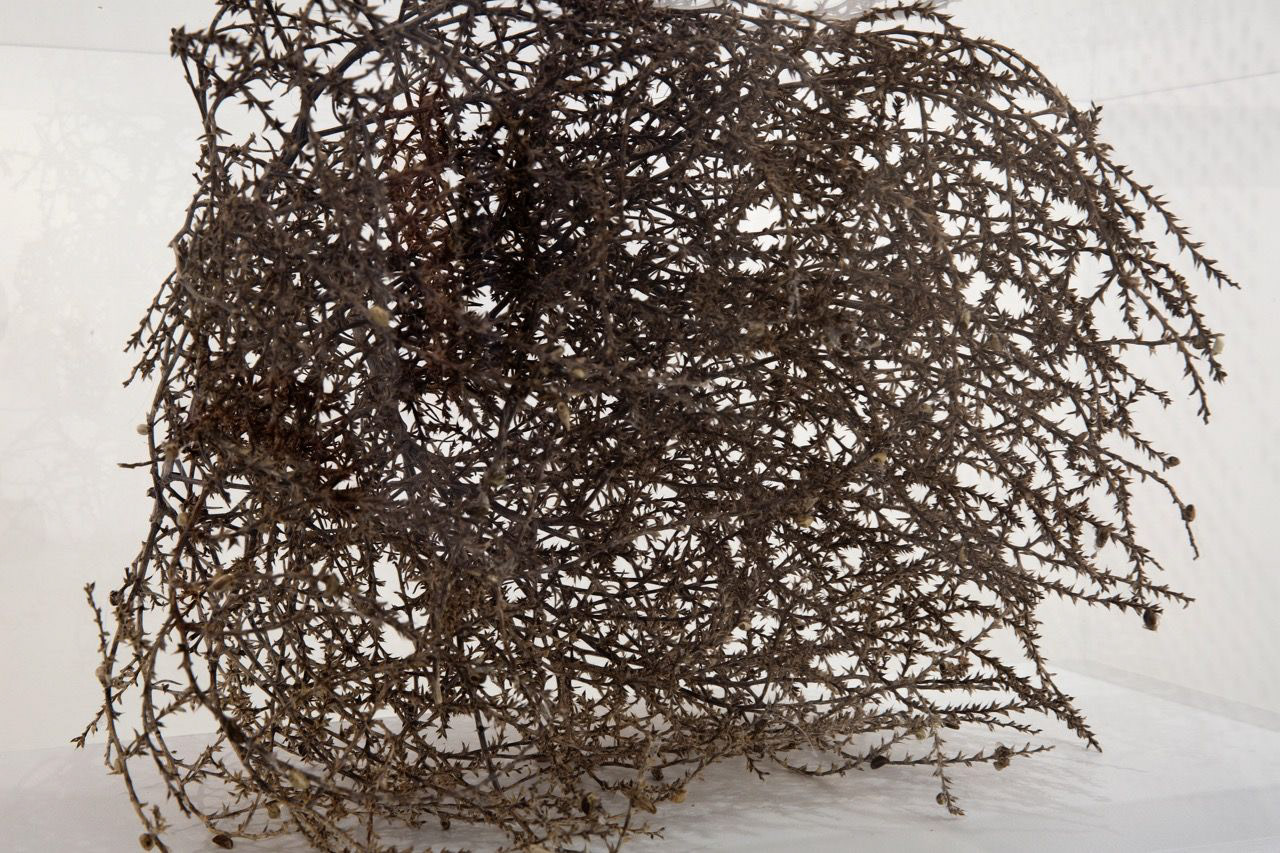 Agro-Terrorism by Rob Ungar and Won Cha, 2018
Teosinte on Tumbleweed
36in x 36in x 36in

A staple crop that supported many generations for centuries, corn was a foundation of Mexican culture. Though Mexico had over 59 known indigenous varieties of corn, they were also the top importer of American corn. The US state of Iowa alone produced up to three times as much corn per year as Mexico. By 2019, over 90 percent of the corn produced in the US was grown from genetically modified organism or "GMO" seeds owned and sold by the company Monsanto. Monsanto also had an aggressive program to expand its operations by buying the most fertile land in Mexico, threatening Mexico's agricultural autonomy and endangering corn biodiversity.


After the events of September 11th, 2001, The Department of Homeland Security, in cooperation with other federal agencies, developed a "threat matrix," an extensive, covert infrastructure meant to anticipate and respond to any potential threats to the United States. This included the threat of what it called "Agro-terror," or attempts to disrupt or destroy a country's agricultural industry and/or food supply system through the use of biological agents against plants or animals. Though there were no official documented cases of agro-terrorism originating from the US-Mexico border, artist Won Cha and urban designer Rob Ungar sought to question the status of Monsanto's business practices, and the US government's label of "agro-terrorism," by engaging in their own activity using a different biological agent.
Teosinte, an ancient grain native to Mexico, was an ancestor to what came to be called corn. The Teosinte seed is able to stay dormant for extended periods of time. Before it bares its seeds, the Teosinte plant looks identical to the corn plant. Because of its genetic similarities, Teosinte has the ability to cross with GMO corn, creating a hybrid plant. Mexican farmers often mixed Teosinte in their corn fields to strengthen their crops against pests. Teosinte-GMO hybrids embody the cultural, historical, social flux that had always existed within sister cities along the US-Mexico border. Entwined in the branches of tumbleweed, the seeds displayed here could conceivably have been smuggled across the border merely by the force of wind.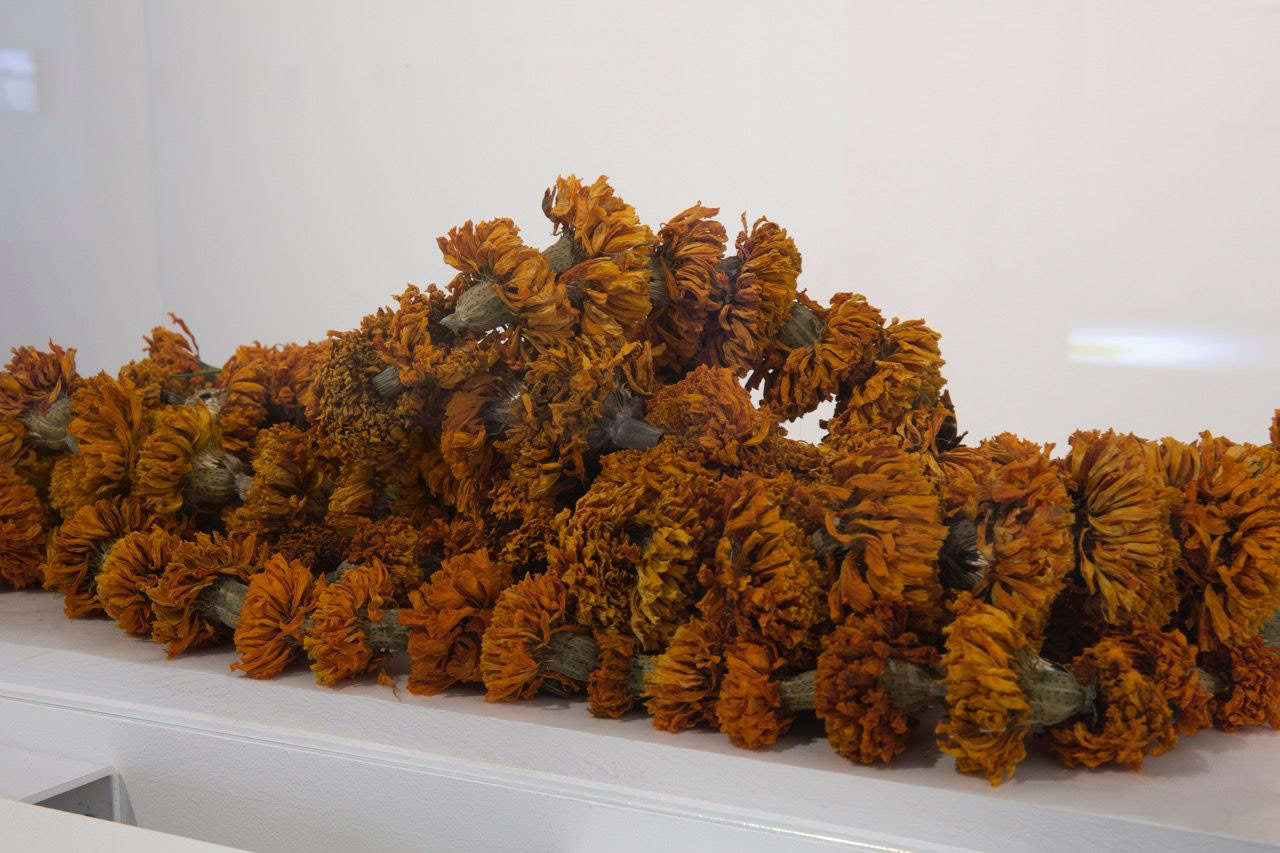 Cempasuchil by Janaki Jagganath, 2018
Garland of Dried Marigolds
48" x 4" (3)


Janaki Jagannath founded the Marigold Society in 2010 to collect cempasuchil or "marigold" seeds from members around the world and anonymously forward them to other members. Though the plant is native to modern-day Mexico, Cempasuchil is grown across the world because it is highly resilient and adaptable, having traveled with patterns of migration and colonization to find a place in ritual practices in many different cultures. In the US, home gardeners often planted rows of brightly-colored marigolds as a border around vegetable and herb gardens. Though it is still commonly believed that the plants' strong, fragrant, bitter taste helps repel rabbits and other unwanted pests, horticultural experts maintain there is little evidence marigold borders are effective as a repellent.
In November 2018, thousands of Central American migrants seeking asylum in the US reached the border town of Tijuana. Though the conditions they fled were decades old, these migrants had traveled on foot in a highly publicized collective movement for the right to safety. The large number of people awaiting hearings at the border led to the creation of makeshift shelters across Tijuana, where migrants slept in tents in places like freeway overpasses, soccer fields, and warehouses.


The seeds that grew into these flowers were gifted to Janaki in December 2018 while she served as a volunteer cook at Campamento Benito Juarez, a 250-person encampment in a warehouse in central Tijuana. After evening food service, Janaki spent time chatting with people in order to shift attention away from the immediate trauma they were facing. Upon hearing of the Marigold Society, one woman (anonymous), traveling with her 4 year old son, gifted Janaki a few dried cempasuchil blooms in a plastic bag she had carried with her on her journey from Honduras. She mentioned that she did not know when she would be able to plant them next.