Reclaim Collection, 2022
Collectible Design; Furniture; Woven Sculpture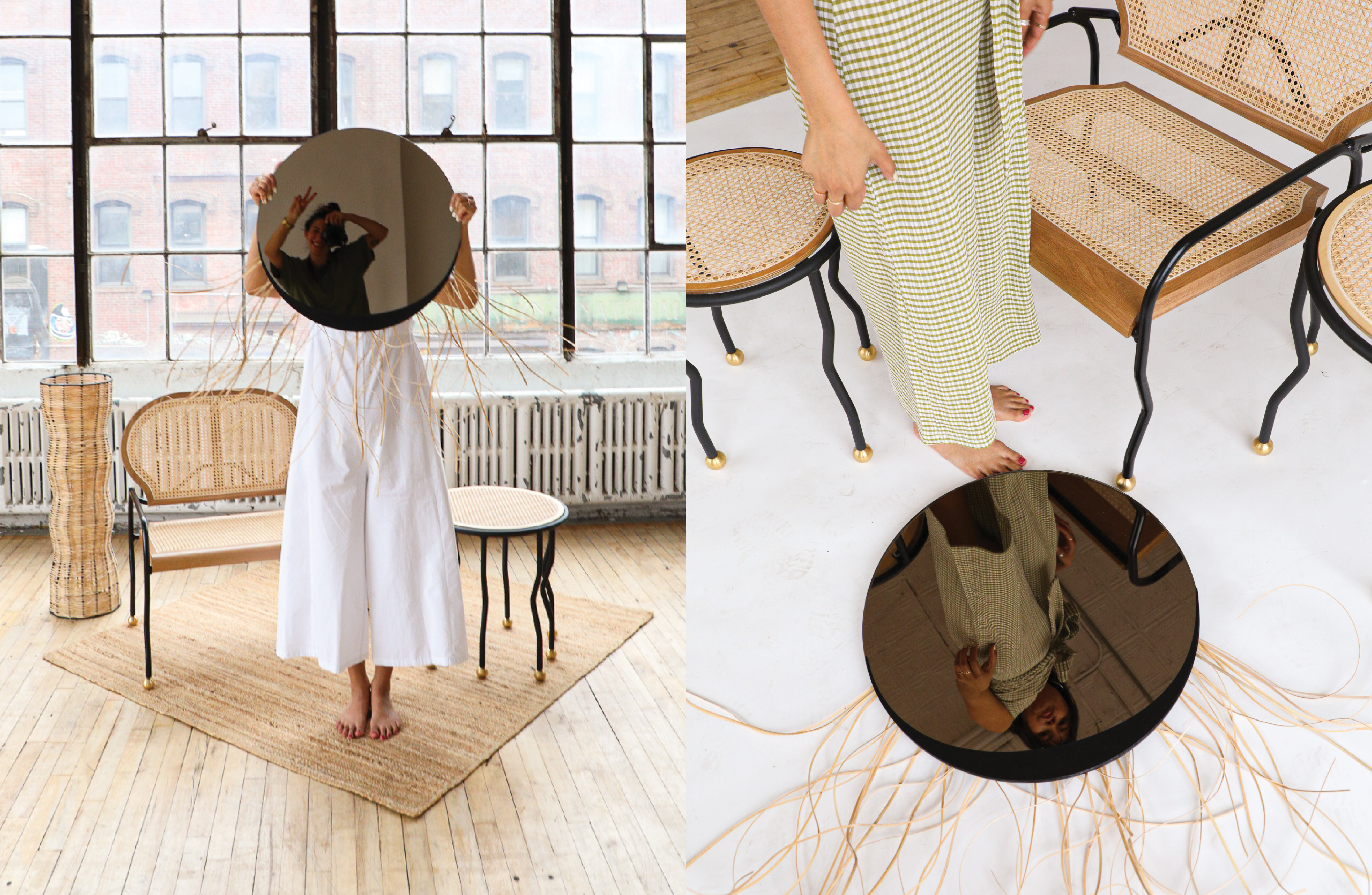 • Location: New York, NY
• Details: Woven Cane, Bent Steel, White Oak Sculptural Furniture
• Dimensions:
varies
Reclaim Collection is inspired by the fascinating yet forgotten history of the iconic Peacock chair. The organic, textural four-piece collection of hardwoods, woven cane and bent steel weave together a compelling narrative about form, heritage and materiality from the Filipino diaspora. Imagined as functional artefacts, each piece of the collection is linked through the use of bold, curved geometries and delicate handwoven natural materials. Rooted in history but designed to fit our contemporary world, the Reclaim collection includes a lounge chair, nesting stools, totemic sculptures and a sculptural mirror. Ultimately, Reclaim is an earthy, elegant, highly personal proposition for the future of Filipino-American design.
RECLAIM in the Press
︎︎︎ CURBED:
A Filipino American Designer Is Reclaiming the Peacock Chair "It's more than designing a collection; I'm inventing a style," says Cheyenne Concepcion

,

by Diana Budds, May 19, 2022

︎︎︎SIGHT UNSEEN: New York Design Week, We Missed You — Here Are 25 Favorites From the Festival That Was by Jill Singer, May 26, 2022
︎︎︎DOMINO: Scouting, New York's Design Week Shows Prove This Millennial Trend Isn't Going Anywhere Domino's editors pick their favorite pieces. by Julia Stevens, May 21, 2022


︎︎︎NY

POST (Online): The best new looks from the 10th annual NYCxDESIGN Festival by April Hardwick, May 20, 2022
︎︎︎ NY POST (Print): Your Next New Look by April Hardwick, May 19, 2022
︎︎︎ DESIGN MILK: Presenting WantedDesign's Launchpad 2022, Vy Tran, April 1, 2022
New Monuments Must, 2021
Public Art; New Media; Activism
︎︎︎

SF Urban Film Festival; Who We Mourn, How We Remember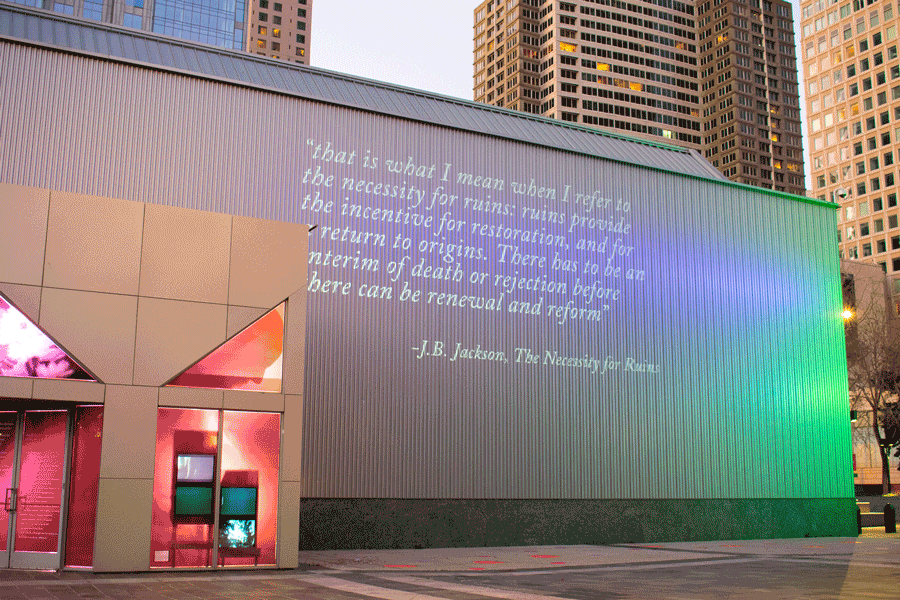 • Location: SF Urban Film Fest, San Francisco, CA
• Details: Projection Mapping, Motion Graphics, Activism
• Dimensions: varies

Part of the San Francisco Urban Film Festival, in February 2021.

A site-specific new media installation in downtown SF, this projection portrays the six Recommendations for New Monuments that were established after my 6-month community research project "The Relic Report." Part social commentary, part new media this projection makes use of a highly trafficked public space to spark discussions of public memory.

In collaboration with Bernadette Dia.
• Location: San Francisco, CA
• Details: Participatory Research, Zine, Social-Practice
• Dimensions:
varies
The Relic Report is an unofficial municipal study of San Francisco's monuments and memorials and their intersection with our country's racist history. The two-part publication documents a playful investigation of monuments in the city's civic art collection and reflects on what to do next. A research guide of sorts, part one intended to provide fodder for critical conversations and kicked off a public comment survey which called for SF residents to respond to the presented research. Volume 2 is a creative culmination of the participants' reflections aswell as the taskforce's Recommendations for New Monuments.
In addition to researching, designing and publishing this report, I gathered a group of artists, activists and cultural workers to establish a taskforce called
New Monuments Taskforce,
which oversees the process of public engagement and serves as a braintrust for NMT's initiatives. By creating seats at the proverbial table I introduced community-led processes into the political spectrum of monument making - a process known for being top down.
This project is part the Shaping the Past Initiative by Monument Lab x Goethe Institut, an international art initiative that addresses whom, what and how we remember in public spaces. RRV2 illustrations by Geon Joo Shin.
︎︎︎

Relic Report Vol. 1
︎︎︎

Relic Report Vol. 2
Marble and Media: Digital Activations of Public Memory, 2021
Public Art; New Media; AR; Social Practice
• Location: San Francisco, CA
• Details: Public Art & Augmented Reality Workshop
• Dimensions: varies

Marble and Media is a Zero1 creative laboratory utilizing new media to explore monuments and memorialization in public space.

The workshop was inspired by my efforts with New Monuments Task Force. I co-led the artists workshop with New Media artist Camila Magrane. I created the conceptual framework for the 2 month artists workshop, empowering emerging artists in the Bay Area to use New Media tools to reckon with toppled monuments at a site of protest in San Francisco. The work we made in the workshop was presented as a "guerilla" public exhibition/AR Walking tour in Golden Gate Park's Music Concourse.

• Location: San Francisco, CA
• Details: Woven Natural Fibres, Ink on Birch Board
• Dimensions: varies

Jalisco is a triptych of three 12" x 12" weavings inspired by thatched roofs I recently encountered around coastal Jalisco, though I have childhood memories of encountering similar roof structures called "Nipa Roofs" in my homeland of the Philippines. I am likely captured by thatched roofs because of my background in urban planning and architecture. In a field that often prioritizes euro-centric forms and construction techniques, thatched roofs have maintained their presence because of their simplicity, sustainability and most notably, their style.The Jalisco series adopts the materiality of this indigenous building technique as it is constructed of dried grasses and multi-colored masonry rope. Organized as a triptych, the two-toned composition creates an abstraction of interconnectedness.