The Borderlands Archive
, 2019
The New School's Kellen Gallery, New York
Group Exhibition with Museum of Capitalism
The Borderlands Archive is a collection of contributed artifacts from people living in the US-Mexico borderlands. Collected objects represent physical, social, political, and environmental connections that form a collective public record about a contested space between the two countries, suggesting a counter-narrative to notions of fixed borders by reconceptualizing such places as vast spaces in constant flux, or borderlands. Asserting this borderland's status as its own distinct space, the archive draws on the myriad connections between Mexico and the United States, in spite of the many monumental attempts to divide that space. This project adopts the territorial boundary of the early 19th century—which follows what is now the state line between Oregon and California, running east to Wyoming and Southeast to Louisiana—and examines objects collected within that boundary.
​​​​​​​

This exhibit features three objects loaned from the Borderlands Archive: a used plastic bottle from the Tijuana River Valley, "Cempasuchil" or Mexican marigolds, and Teosinte. The artifacts were contributed by various persons working in collaboration with archivist Cheyenne Concepcion, and a description of the provenance and meaning accompanies each. The collaboratively constructed mixed-media map was assembled from found discarded objects at the San Diego-Tijuana border by Oscar Romo and Cheyenne Concepcion and represent land management practices which influence the three loaned artifacts. The mixed-media map interrogates different ways that capital, consumption and labor, as commodities or human bodies, could flow across national borders under capitalism and alter the environment.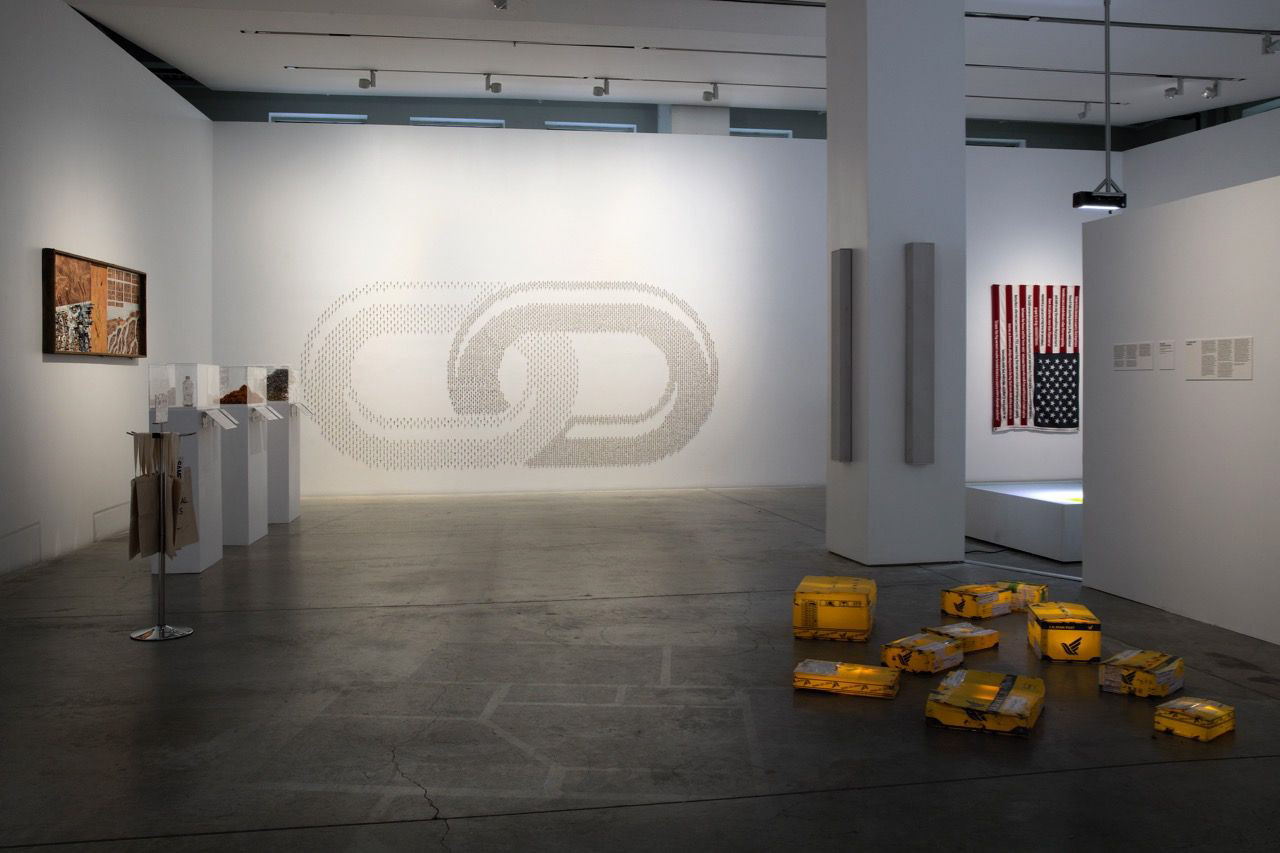 Cempasuchil by Janaki Jagganath, 2018
Garland of Dried Marigolds
48" x 4" (3)
Janaki Jagannath founded the Marigold Society in 2010 to collect cempasuchil or "marigold" seeds from members around the world and anonymously forward them to other members. Though the plant is native to modern-day Mexico, Cempasuchil is grown across the world because it is highly resilient and adaptable, having traveled with patterns of migration and colonization to find a place in ritual practices in many different cultures. In the US, home gardeners often planted rows of brightly-colored marigolds as a border around vegetable and herb gardens. Though it is still commonly believed that the plants' strong, fragrant, bitter taste helps repel rabbits and other unwanted pests, horticultural experts maintain there is little evidence marigold borders are effective as a repellent.
In November 2018, thousands of Central American migrants seeking asylum in the US reached the border town of Tijuana. Though the conditions they fled were decades old, these migrants had traveled on foot in a highly publicized collective movement for the right to safety. The large number of people awaiting hearings at the border led to the creation of makeshift shelters across Tijuana, where migrants slept in tents in places like freeway overpasses, soccer fields, and warehouses.
The seeds that grew into these flowers were gifted to Janaki in December 2018 while she served as a volunteer cook at Campamento Benito Juarez, a 250-person encampment in a warehouse in central Tijuana. After evening food service, Janaki spent time chatting with people in order to shift attention away from the immediate trauma they were facing. Upon hearing of the Marigold Society, one woman (anonymous), traveling with her 4 year old son, gifted Janaki a few dried cempasuchil blooms in a plastic bag she had carried with her on her journey from Honduras. She mentioned that she did not know when she would be able to plant them next.
Agro-Terrorism by Rob Ungar and Won Cha, 2018
Teosinte on Tumbleweed
36in x 36in x 36in

A staple crop that supported many generations for centuries, corn was a foundation of Mexican culture. Though Mexico had over 59 known indigenous varieties of corn, they were also the top importer of American corn. The US state of Iowa alone produced up to three times as much corn per year as Mexico. By 2019, over 90 percent of the corn produced in the US was grown from genetically modified organism or "GMO" seeds owned and sold by the company Monsanto. Monsanto also had an aggressive program to expand its operations by buying the most fertile land in Mexico, threatening Mexico's agricultural autonomy and endangering corn biodiversity.
After the events of September 11th, 2001, The Department of Homeland Security, in cooperation with other federal agencies, developed a "threat matrix," an extensive, covert infrastructure meant to anticipate and respond to any potential threats to the United States. This included the threat of what it called "Agro-terror," or attempts to disrupt or destroy a country's agricultural industry and/or food supply system through the use of biological agents against plants or animals. Though there were no official documented cases of agro-terrorism originating from the US-Mexico border, artist Won Cha and urban designer  Rob Ungar sought to question the status of Monsanto's business practices, and the US government's label of "agro-terrorism," by engaging in their own activity using a different biological agent. 
Teosinte, an ancient grain native to Mexico, was an ancestor to what came to be called corn. The Teosinte seed is able to stay dormant for extended periods of time. Before it bares its seeds, the Teosinte plant looks identical to the corn plant. Because of its genetic similarities, Teosinte has the ability to cross with GMO corn, creating a hybrid plant. Mexican farmers often mixed Teosinte in their corn fields to strengthen their crops against pests. Teosinte-GMO hybrids embody the cultural, historical, social flux that had always existed within sister cities along the US-Mexico border. Entwined in the branches of tumbleweed, the seeds displayed here could conceivably have been smuggled across the border merely by the force of wind.
Used Plastic Bottle by Cheyenne Concepcion, 2018

Article of Pollution found in San Diego

8in x 2in x 2in

Water packaged in plastic bottles, once a ubiquitous feature of American capitalism, came to represent bi-directional flows of people and resources across the US-Mexico border in many complex ways.
In 1965, the Mexican government initiated the Border Industrialization or "Maquiladora" Program encouraging foreign companies to set up factories in Mexico for export of products back to those foreign (mostly US) countries. This initiative, along with the North American Free Trade Agreement (NAFTA) in 1994 had enormous impacts on the physical border landscape. Subsequent economic growth had cities like Tijuana struggling to build sufficient infrastructure, leading migrant workers to build makeshift homes in coastal canyons along the urban periphery. These coastal canyons became popular sites for illegal dumping of waste by the maquiladoras, American construction companies, and even Tijuana residents dealing with irregular public collection leading to a long-lasting relationship between the sister cities defined by production, consumption and finally, pollution.
This used plastic bottle was acquired in San Diego by artist Cheyenne Concepcion, where it had traveled across the international border as an article pollution from Tijuana. Tracing the bottles lineage--from it's manufacture in Tijuana, to being sold-consumed-discarded in the US, to being dumped in the Tijuana River Valley, only to flow back across the international boundary--embodies the complicated industrious ties (and those consequences) between sister-cities.  As population and economic growth increase in the region, the cities' shared pollution problems continue to prompt cross-border infrastructure investment, as well as conservation efforts that brought together an unlikely stakeholder group, including environmentalists, human rights activists, and even surfers. In 2017, 143 million gallons of sewage seeped into San Diego from Tijuana, and in 2018, a 600,000 gallon spill closed San Diego beaches for weeks, prompting the Surfrider Foundation, an organization of recreational surfers, to sue the International Boundary and Water Commission. 
Bottled water also appeared near the border through the longstanding practice of humanitarian groups leaving larger containers of bottled water along known migratory routes in desert areas. The practice had been criminalized in a way similar to the fugitive slave laws that 200 years earlier punished those who aided persons fleeing slavery. In November of 2019, as the Museum of Capitalism was mounting its first exhibition in New York City, the case of Scott Warren made its way through the US court system, setting an important precedent for future border activists.